Eco-Matic Cowbrush; reliable and cowfriendly
With the rotating cow brush you improve the milk production and health of your cows.
Images of Eco-matic Cowbrush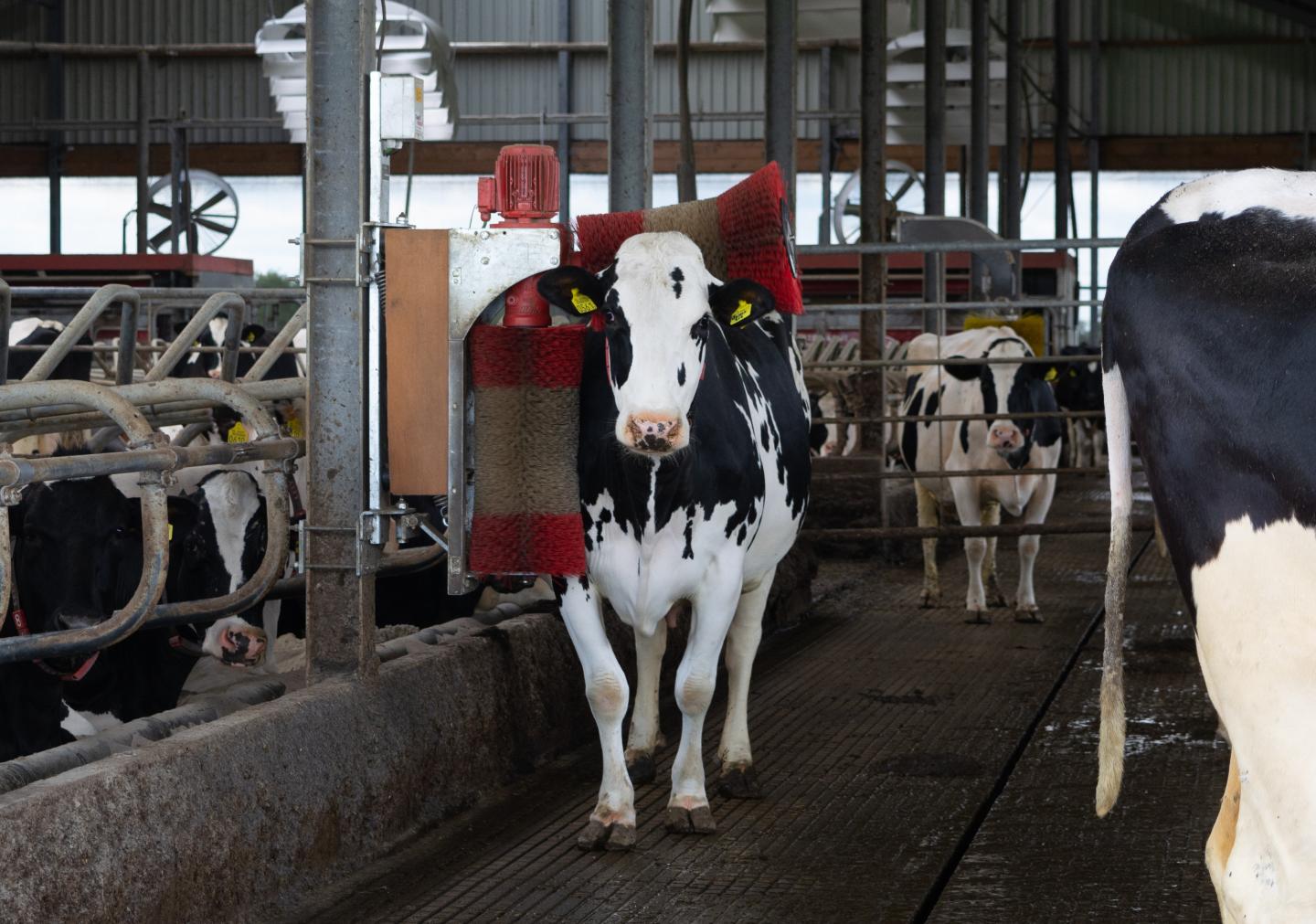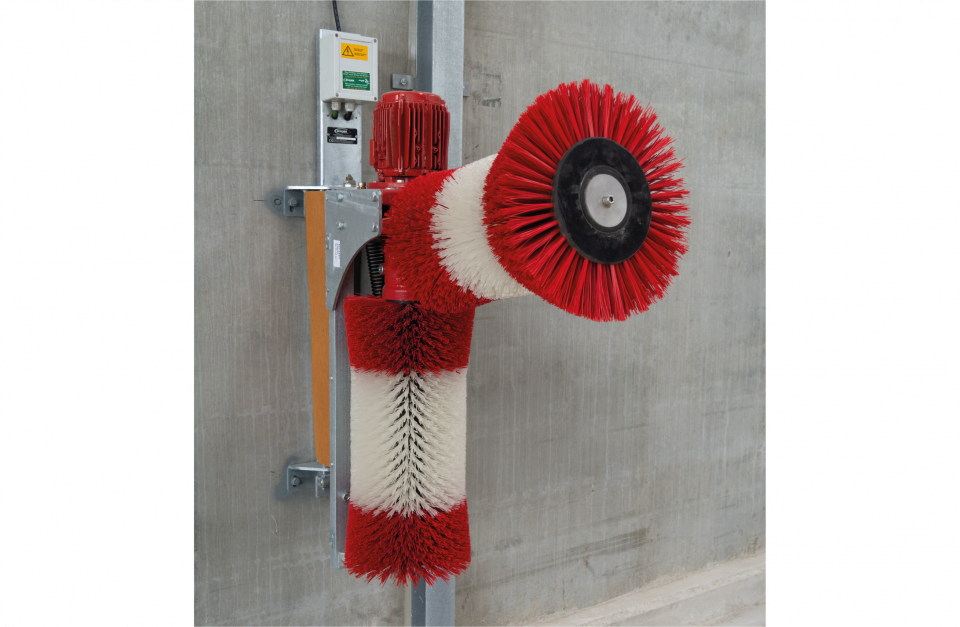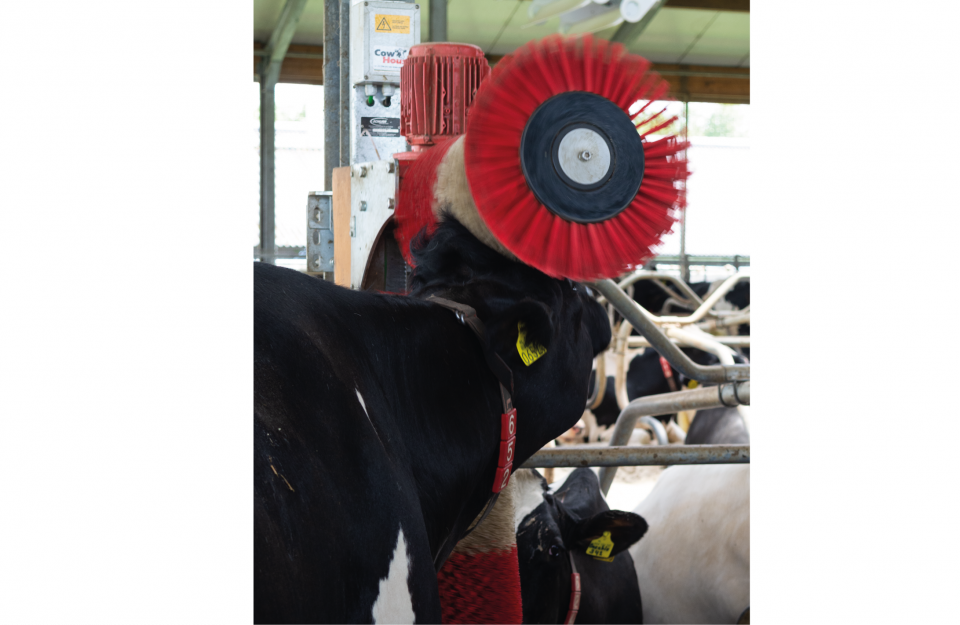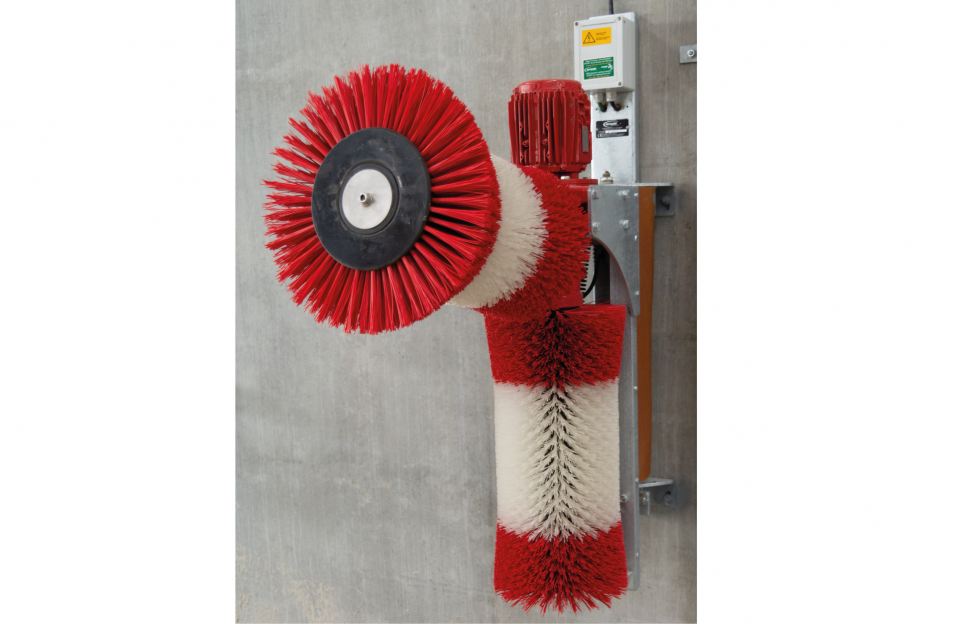 The most reliable and animal friendly cow brush
The cow brush is waterproof and is being cooled from the inside, so that it can also be mounted outside. The bearings and transmission are of heavy quality material, so that the cow brush is even be being used in bull barns. The cow brush moves vertically due to 25 cm spirals and a bit horizontally due to rubber spirals. In this way it adjusts itself to every kind of cow or bull.
On top of that this cow brush is very safe compared to other hanging brushes. Due to the firm mounting and robust construction the cow can put more pressure on the brush, which leads to a better blood flow and the skin will remain free of parasites. Due to the double brush for cleaning the back, front and sides up to the hocks the Eco-matic brush has more to offer than a single cow brush
Characteristics
The Eco-Matic cowbrush has an energy-saving motor.

The double brush ensures optimum cleaning of the back, chest and flanks

Full skin massage optimizes blood circulation and metabolism

Increases well-being and ensures more peace in the barn

Wear-resistant, kink-resistant bristles

Safety mechanism: changes direction of rotation in the event of an overload

Long service life, maintenance-free oil-lubricated transmission
Why Cowhouse is the perfect partner
Innovative

Day in, day out, we work on innovating, developing and optimising our products. We achieve this through our own research in cooperation with dairy farmers, universities and research institutes in the field of animal welfare.

It all starts with the cow

All our products have been developed to take cow welfare to a higher level. We look at everything from the cow's perspective to experience what she truly needs.

Passion for the dairy sector and knowledge in-house

We work with people with a passion for the agricultural sector and 'a click with cows'. They have wide experience and often have a background in dairy farming. We also work closely with external partners and dairy farmers.

Listening and delivering custom-made solutions

We are convinced that each barn requires a custom-made solution. We listen to your wishes and offer advice tailored to your specific situation. Short communication lines enable a rapid response and we value maintaining close, personal contact.