Cowhouse wins gold Animal Welfare Award with new stall divider 'Dreamstall'
Images of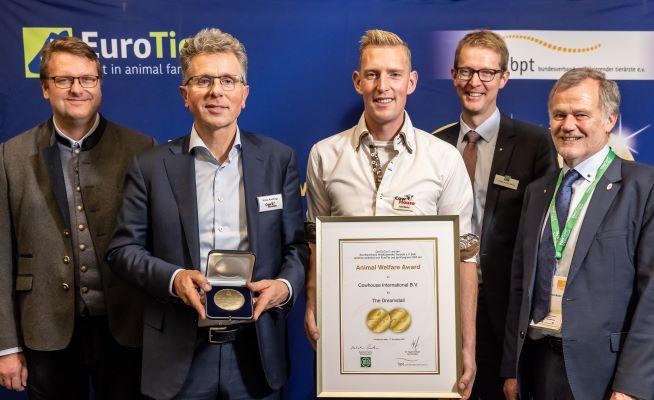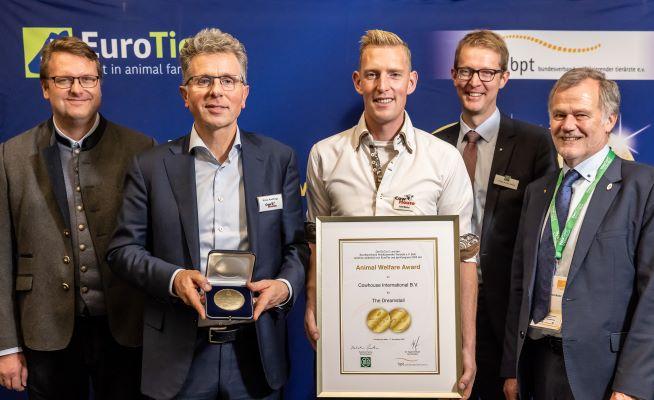 Cowhouse International has won two prizes at the Eurotier fair in Hannover with a newly developed stall divider. With the wide-ranging stall divider, called 'Dreamstall', Cowhouse was awarded a silver medal for innovation and the prestigious gold Animal Welfare Award for contributing to better animal welfare. The Animal Welfare Prize is awarded by the German Bundesverband Praktizierender Tierärzte, the national association of veterinarians.
"This appreciation is a crown on our work", says director Rinse Andringa, "We have worked for more than 10 years to develop a wider stall divider. I expect this to be a turning point in dairy farming. With today's freestalls, a cow often has less than 115 cm of space between the partitions, while she herself is wider than 115 cm. If you make these stalls wider, they get dirty and this means more work for the farmer and a greater risk of a lower milk quality."
Dreamstall
The Dreamstall is the first freestall system in which cows can adopt any natural standing and lying position. Andringa: "With the Dreamstall we can create a stall divider with a width of, for example, 140 to 160 cm. This gives the cow much more space to easily lie down. The guiding frame ensures that cows lie down straight and the lying area therefore remains clean. We are the first company worldwide who have achieved this and we are extremely proud of that."
The neck rail is also missing from the Dreamstall. This allows the cow to stand freely with its head up. Andringa: "They also do this in nature to see if there is any danger from predators. This neck rail has always been an obstacle for the cow and after fifty years we have finally got rid of it."
The importance of wider free stalls is also recognized from a scientific perspective. A recent study from the University of British Columbia showed that given free choice, cows strongly preferred wider free stalls. Cows lay down earlier and were able to assume all natural lying positions such as stretching the legs sideways. As a result, lameness and hoof lesions declined sharply, which in turn benefited the cow's well-being.
Cowhouse expects to officially launch the new Dreamstall in the beginning of 2024.
Images of